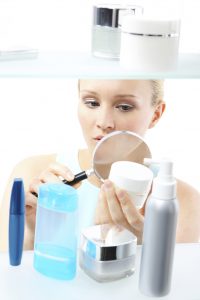 Let's face it–no one has time to apply a ton of skin care products or make a trip to the dermatologist every time a skin issue surfaces. If you have a usual skin care regime that you follow everyday, we're here to help you get the most out of your favorite products:
Use your cleanser like a pro: Concentrating the cleanser where you have the most pores, cleans out dirt and oil more effectively. This will help products that follow be able to penetrate properly instead of being blocked by gunk left behind.
Add serum on damp skin: Applying serum straight from the shower will assure that every ounce of your potion gets absorbed into the skin. As soon as water evaporates from the skin, it can get dehydrated. Adding serum when your skin is wet will lock in hydration and make your product work more effectively.
Exfoliate a few times a week: Reveal your inner radiance and help speed up cell turnover by exfoliating a few times a week. Sloughing off dead skin cells will help your complexion look brighter and smoother. Look for gentle chemical exfoliators in a pad or serum.
Layer, layer, layer: Applying multiple  serums under your face cream and sunscreen is the secret to a healthy, glowy complexion. Serums go on first and contain the mega dose of active ingredients that target what your skin needs. Apply your lotions and potions in order from thinnest to thickest.
If you're looking for a total beauty overhaul this season, come see the hair and makeup experts at  Anthony Vincent Salon! Our full service salon is here to take care of all of your beauty needs–from the perfect cut to a beautiful manicure. We believe that when you look your absolute best, you feel your best too! To learn more about the services we offer or to schedule an appointment, give us a call at 609-448-2212, or visit us here. Don't forget to connect with us on Facebook and Twitter to stay up to date on the latest industry trends and styling tips.