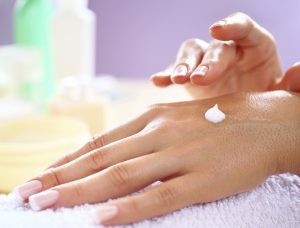 Winter is coming! And with dropping temperatures comes  more skin concerns. If you're finding some extra rough patches or cracks in your normally  smooth skin–don't panic! With a little extra TLC, your skin will be smooth as a baby's bottom in even the harshest of weather conditions.
Chapped Lips
The cause: Harsh weather may be the sole contributor to chapped lips, but did you know that another contributor is the over-application of your favorite lip balm?
The solution: Gently exfoliate your lips with a sugar scrub or a soft washcloth to slough away dead skin cells. After exfoliation is complete, slab on some thick balm before bed to let it penetrate your lips and moisturize while you sleep. If you suspect your lip balm is to blame, cut back on the frequency of your application or swap it out for another formula.
Dullness
The cause: Dull appearing skin can actually be the cause of dead skin cells on your top layer of skin. This is often a sign that you're not exfoliating your skin enough and that you need more hydration.

The solution: Exfoliate, exfoliate, exfoliate. Using a gentle exfoliation weekly in the shower in conjunction with a mild, at-home chemical peel to loosen build-up. Follow with a serum packed with Vitamin C and make sure to moisturize!
Flaky Skin
The cause: Constant dry heat blasting in conjunction with your long, hot showers are to blame.

The solution: While your first instinct may be to scrub the flaky patches away, doing so many disrupt your skin's protective moisture barrier. Instead, opt for creamy washes that have mild exfoliating beads, or face and body lotions with lactic acid. These will do wonders in sloughing off patchy skin while still being gentle.
While these  at home tips to beat the winter blues will help you feel great in a bind, give Anthony Vincent Salon a call to really pamper yourself! From the perfect cut to a beautiful manicure, we do it all! We believe that when you look your absolute best, you feel your best too! To learn more about the services we offer or to schedule an appointment, give us a call at 609-448-2212, or visit us here. Don't forget to connect with us on Facebook and Twitter to stay up to date on the latest industry trends and styling tips.