Heading to the salon for a fresh new color is always so exciting, but can also be overwhelming if you don't know what to ask for. While your colorist should educate you on the hair color options that are available, understanding the differences before your appointment will help feel confident in your decision to go chocolatey brown or beachy blonde. Here is a breakdown of the major types of hair color: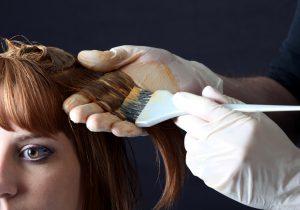 The amount of peroxide in a dye, combined with an alkalizing agent, is what serves to make a difference between hair colors.
Temporary Color: If you're looking for a quick, non-committal way to spruce up your locks, consider temporary color. This serves more to make a fashion statement than to actually dye the hair or cover grey successfully. Temporary hair colors do not contain peroxide or ammonia, so there is no color-lifting involved when these dyes are applied to the hair. Color will gradually wash out from the hair in just a few shampoos. If you're feeling daring and want to try a pastel shade, or test the waters with going darker for fall, give temporary color a try!
Semi-Permanent Color: Semi- Permanent color is just that: only partially permanent. This color may not last considerably more than temporary color, but will stick around long enough to give you a color boost. The formula isn't strong enough to cover greys or make a permanent change, but you can try it as a color refresh for darker shades, or to tone brassy blondes.
Demi-Permanent Color: These colors contain a low concentration of ammonia and peroxide, and can lift the base color of your virgin hair about one shade. Demi-permanent colors aren't ideal for lightening the hair and are used more for covering hair with a minimal amount of grey or for deepening a few shades. Demi permanents will wash out after a few months, so make sure to keep up with the grey coverage after that time.
Permanent Color: This type of color contains a much higher concentration of peroxide and ammonia over the other types. The overall effect is permanent, however, the color may fade slightly over time due to oxidation. Permanent color is the best option when covering greys,
where re-growth root touch ups will be needed about every 4-8 weeks.
Bleach: While not a form of hair color, bleach is another chemical used in the hair coloring process. Hair bleach is basically a high concentration of peroxide and is used when brunettes or darker hair colors want to achieve lighter shades of hair. It's necessary to lift the color with a bleach and then (typically) apply a demi permanent color to seep into the hair cuticle. Bleach is also what gives the look of beachy blonde highlights or for a balayage and ombre effect. Since bleach contains a very high level of peroxide, make sure to take care of your hair with deep conditioning and hot oil treatments to prevent breakage.
Are you looking to switch up your hue for the fall weather ahead?Let Anthony Vincent Salon help! Our full service salon is here to take care of all of your fall beauty needs.  We believe that when you look your absolute best, you feel your best too! To learn more about the services we offer or to schedule an appointment with one of our skilled colorists, give us a call at 609-448-2212, or visit us here. Don't forget to connect with us on Facebook and Twitter to stay up to date on the latest industry trends and styling tips.