Everyone can benefit from a good hair dryer. Great quality tools and products can make the world of difference when it comes to styling your hair and making it look like you just came straight from the salon chair. But since  there are so many on the market, how do you know which is the right dryer  for you and your hair type? You might be surprised to learn just how much hair dryers have evolved these past few years, so we're here to break them down for you: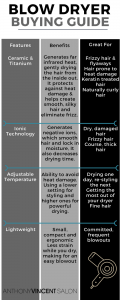 While these blow dryers can make your hair look great at home, there really is nothing quite like going to the salon for a professional blowout to last for days!
If y you're looking for the best hair salon in the East Windsor area, Anthony Vincent Salon is here to make you look and feel your best! We're your go-to-salon for delivering either smooth, sleek and shiny results or to give you a big and bouncy blowout packed with volume! To learn more about the services we offer or to schedule an appointment with us today, give us a call at 609-448-2212. Say Hello To Beautiful and connect with us on Twitter and Facebook too!