We've all suffered from frizzy hair at some point or another in our lives, and let's face it, it's not pretty! With the extreme heat and humidity that we've been experiencing lately, the elements are not on our frizz-free-hair side. But rest assured, there is help! Banish frizz for good and say hello to days of sleek and shiny hair ahead with these frizz-reducing tips: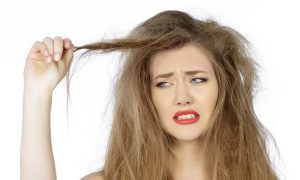 Stay hydrated: Frizz is primarily caused by a lack of moisture, so staying hydrated is key to a smooth and sleek look. Avoid shampooing too often as it can strip your hair of it's natural oils, and make sure to deep condition at least once a week. When applying your conditioner, squeeze out as much excess water as you can before combing through the treatment with a wide tooth comb–and make sure the water isn't too hot!
Get Your Beauty Sleep: Bring new meaning to the term "I Woke Up Like This" by swapping out your traditional pillow case for a satin one to ensure that your tresses are frizz free when you wake up. Cotton absorbs moisture, while silk retains it. Natural oils from your strands are retained when you lay your head down on a silk pillowcase, leaving them nourished and not dry.
Don't Disturb The Cuticle: One key element to preventing frizz is to never disrupt the cuticle. Our hair is very fragile and it's important that we be gentle with it. Instead of rough drying your hair with a towel that will create friction and possibly cause breakage,  pat it dry with a soft, cotton t-shirt. This will ensure that you remove most of the water before putting a blow dryer to it and the gentleness of the t-shirt will protect your hair from turning into a frazzled mess.
Products (and Tools) Are Your Best Friend: Serums, hydrating creams, heat protectants and lightweight leave in conditioners should be added to your daily beauty routine in your quest to fight the frizz! Silicon based hair products will provide great results when looking to eliminate frizz, and will add wonderful shine to dull and dry looking locks. Since hair is most fragile when it is wet, use a wide tooth comb to detangle it and reduce your risk of breakage.  Should you feel the need to blow dry your hair, use an ionic or ceramic blow dryer with a concentrator, and avoid blasting it with heat for too long. A wire brush that's half boar bristle and half nylon will also deliver smooth results and help seal your cuticle.
Buh-bye, frizz! We're glad to see ya go!
Is your unruly, frizzy hair putting a damper on your day? Come see us at Anthony Vincent Salon! From deep conditioning to Brazilian hair treatments, we're your go-to-salon for delivering smooth, sleek and shiny results! To learn more about the services we offer or to schedule an appointment with us today, give us a call at 609-448-2212. Say Hello To Beautiful and connect with us on Twitter and Facebook too!