Wedding bells are ringing–congratulations, your big day is almost here! The day you dreamed about your entire life. While it's no doubt that you will be feeling great on your wedding day, you'll want to look great too! On arguably the most important day of your life, you'll want to try to make it as stress free as possible. Here are some reasons why you should hire a professional hair and makeup artist for your wedding:
Be Stress-Free:
Of all the reasons to hire a professional makeup artist and hair stylist for your wedding day, this may be one of the most important. Your wedding day will most likely be very busy, with unexpected challenges–don't let your appearance be one of them! This is your chance to have a little alone time to relax and enjoy being pampered, After all, you deserve it!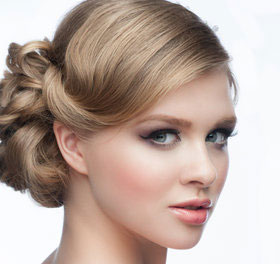 Artists Know Best:
Experienced professional makeup artists and hair stylist have perfected their craft and know what works best for a wedding. They are skilled in matching foundations, finding the best colors to compliment your look and for bringing out all of your best features. When you hire a professional team, you can rest assured that they will be using only the highest quality, professional grade products that are applied to last all day!
Be Camera Ready All Day:
While the day might go by in a flash, your pictures are meant to last forever. Hiring a team will ensure that your hair will stay place throughout a wild night of dancing, and your makeup will stay put when you tearfully say your I Do's.
Consistency With Your Bridal Party:
A professional team will eliminate the chaos of having your bridal party scattered about the morning of your wedding getting their glam on. They will also help create a uniform, consistent look amongst all of your bridesmaids. If Jen shows up with a smokey eye and a vamped up lip, but Lauren makes an entrance with a soft romantic look, the party won't look like they belong together.
The Security Of a Trial Run:
Makeup artists and hair stylist will always suggest scheduling a trial prior to your wedding to try out different looks. This will help ensure things go smoothly the morning of and you know exactly what look you're going for without any surprises. It's really important to make sure you meet with your wedding day glam team ahead of time to discuss your bridal vision and to test out your hair and makeup. You'd be surprised how many brides insist on wearing their hair down, and after their trial, have decided on an updo!
Are you looking for the perfect wedding day glam team? Treat yourself to "Beautiful" and let Anthony Vincent Salon make you look and feel your best on the most special day of your life. In salon or on-location services are available to you and your bridal party. To learn more about our custom bridal packages that include hair, makeup, lashes, manicures and pedicures, give us a call at 609-448-2212 or visit us here. Don't forget to connect with us on Facebook and Twitter to stay up to date on the latest industry trends and styling tips.