There's a lot of questions out there about what exactly a Brazilian Keratin hair treatment is, how it works and what kind of care it requires, so we're here to break it all down for you. If you're looking for smoother, straighter hair a Brazilian Keratin treatment might be just what you need!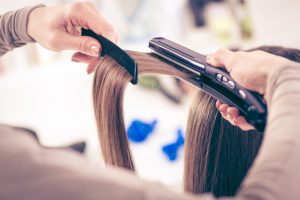 What is Keratin? Keratin is the same protein that your hair is naturally made up of.
How does the Brazilian Keratin process work? Anthony Vincent Salon has trained stylists who apply a keratin hair-straightening product to your hair, saturating each section, and then use a flat iron to seal it into the cuticle. The process takes about 90 minutes depending on the length of your hair and the results are sleeker, smoother hair!
What are the benefits? One of the biggest benefits that come along with getting a Brazilian Keratin treatment is straighter hair that is often desired by women. Other benefits include:
Cutting down on styling time: If you typically straighten your hair, a Keratin treatment could cut down your blow dry time by 40%-60%. The time saving aspect is a great benefit to girls on the go with busy lifestyles who want a sophisticated look without the maintenance.

Say bye-bye to frizz: Frizzy hair will be a thing of the past with this treatment. The product works to seal in the cuticle, giving you that smooth, sleek look, even in the harshest of weather conditions.
What upkeep does it require? Typically the maintenance is pretty low. The only requirement necessary is to wait three to four days after getting the treatment to wash your hair. You want to allow time for the solution to work, so this no-hair-washing-time is crucial! Then, when you finally can wash your hair, be sure to always wash with a sodium-sulfate-free shampoo to maintain the effectiveness of the treatment. Shampoos with sulfates are harsh and can strip the treatment right out, so make sure to look for these shampoos, also commonly referred to "lo-poo" or "no-poo" due to their inability to lather.
How long does it last: Depending on the nature of your hair, proper maintenance and the products used, you can expect the results to last 2-2 1/2 months. At that point, you will want to call your salon to schedule a touch-up or another full treatment.
Are you looking to smooth frizz and cut down on your styling time? Let Anthony Vincent Salon give you the sleek hair of your dreams with a Brazilian Keratin straightening treatment. To schedule an appointment for consultation or to learn more about your services, visit our website or give us a call at 609-448-2212.