Ombre and Balayage are all the rage these days. As hairstylists, we often get asked lots of questions about them both and find clients have a hard time differentiating between the two. To make sure you're asking for the right service when you make an appointment, it's important to understand their differences:
Ombre Is The "Style"
Ombre is the actual style, coming from the French word for "shadow." It's the transition of a lighter shade from a darker shade. Ombre is great for the more daring girl who really wants to make a statement with her hair, but still wants to remain low maintenance. Ombre requires very little upkeep, making it easier for it to remain on trend. This style looks great on anyone, but shows up the best on darker hair. If you're blonde and are looking for this graduation of color, ask for a "sombre," which is a more subtle ombre. And traditional hair colors like blonde, brunette and red aren't the only colors that work with ombre–try out bold shades like pink or blue! 
Balayage Is The "Technique"
In order to achieve the ombre look, a balayage technique is used! The word balayage, is also a French term, meaning to "sweep." This technique is also commonly referred to as hair painting, as no foils are used and lightener is painted strategically on the hair strands to give you the most flattering look. With balayage, there are dark pieces left on the bottom to create dimension and a more natural look. This technique looks like natural sun-kissed highlights throughout the hair. The transition is more natural and requires very little maintenance, as the color grows out beautifully so you don't get an obvious regrowth line.  This also means that you can also get more mileage out of your hair in between appointments. In order to take care of your balayaged tresses, make sure to protect it as you would any other color with a color safe shampoo and conditioner, and a thermal spray before styling.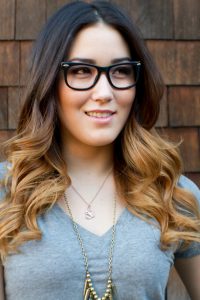 Are you looking for a low maintenance way to stay trendy with your hair color and make a statement? Come see us at Anthony Vincent Salon  to take your plain tresses to a whole new level! Our expert colorists are skilled in balayage techniques and ombre styles, giving you the on-trend hair you've always dreamed of! To learn more about the services we offer or to schedule an appointment with one of our skilled colorists, give us a call at 609-448-2212, or visit us here. Don't forget to connect with us on Facebook and Twitter to stay up to date on the latest industry trends and styling tips.