How many times have you found the "perfect haircut" only to take it to your stylist and find that it just didn't work for your face shape? Don't worry–this doesn't mean you have to give up interesting haircuts altogether and stick with the same old boring cut! Doing a little homework to determine your face shape will help you choose the most flattering look for your face.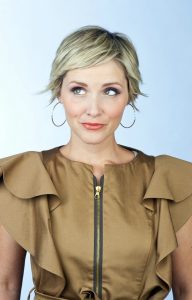 Determine if you fall into the category of oval, round, square, heart, oblong and diamond, and then begin your search for the oh-so-perfect cut.
Oval-faced ladies, you're in luck. Your face shape has been said to be ideal, and you can wear any style you want! From long locks to cute short cuts, be daring oval faced girls!
Typically, clients with round face shapes might find it best to steer away from a bob or a cut that is all one length. Cuts with layers that add definition work well and are more appealing visually.
For square shaped faces, it's a good idea to stay away from cuts that end at the jawline to give a softer feel. If your hair is above the shoulders, adding lots of movement with texture or a fringe bang will be universally flattering.
Heart shaped faces fare well when hair length ends above the shoulders, providing fullness around the jaw.
Longer, narrow faces, like oblong, favor cuts that add overall volume and some interest at the jawline. Drawing attention to your neck and collarbone line will be very becoming, and adding layers around the face for fullness will be a perfect compliment.
For the lovely ladies with a more angular, diamond face, playing with a bob or straight-across cut will do wonders for your face shape. Make sure to keep proportions right though. Reducing width at the cheekbones and shortening the overall length will be most flattering in a cut.
Of course, there are always times where you can break the rules! Face shapes are an important guideline for choosing a good-looking cut, but most importantly, you want to choose a style that makes you feel great! That's what we're here for! At Anthony Vincent Salon, we believe that when you look your absolute best, you feel your best too! To learn more about the services we offer or to schedule an appointment with one of our skilled stylists, give us a call at 609-448-2212, or visit us here. Don't forget to connect with us on Facebook and Twitter to stay up to date on the latest industry trends and styling tips.