Many women know the frustrations of leaving the salon after a fresh manicure only to walk a mere few steps and find that you smudged it fishing out your car keys or buckling your seat belt. When the gel manicure was introduced, it put that annoyance to rest, allowing women to enjoy shiny, lustrous, chip-free nails for weeks. But while the gel manicure provides many aesthetic benefits, repetitive ones can cause your nails to become weak and damaged. You don't have to swear off of them forever though! Follow these simple healthy-nail tips and stave off common post-gel woes!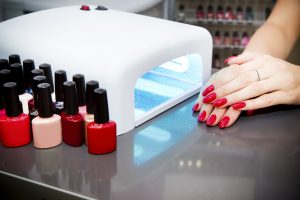 Hydrate, Hydrate, Hydrate!
Gel nail polish can be known to be drying and cause brittle nails, but turns out, most nail polish is drying! Keeping your nails properly hydrated is the only way to ensure strong, healthy nails if you use any type of polish at all.  The night before you're having a gel mani, soak your nails in vitamin e oil to protect your tips from any damage and also help speed up post-mani recovery. And don't forget to use cuticle oil every single day as part of your daily beauty regime.
Carry Your Own Basecoat
Invest in a good pre-gel treatment base coat and bring it with you to the salon. Ask your manicurist to use this instead of their basecoat to ensure an extra level of protection against the chemicals in the polish.
Keep Your Nails Short
If you want to rock the gel manis, it's a good idea to keep your nails short and neat. Gel polish softens nails, leaving them thin and prone to snagging. Keeping them short will help avoid broken nails or infections.
Protect From UV
Slap on sunscreen 20 minutes before you dry your nails in the UV drying lamps. While your exposure to those lamps is short, it's still important to protect your nails and skin from premature photoaging and excessive drying.
Don't Peel
We know it's tempting to peel off your gel manicure, but take our advice–don't do it! Peeling off the layers of polish can do damage to your nail beds, so always opt to remove it properly. Your salon can help you with proper removal techniques, but if you must do it at home, follow these steps. If nails look particularly rough after removal, try a strengthening treatment and give your nails a little break from the polish to recuperate.
The best combination for keeping your nails strong are coupling a good beauty regime with the expert care of our nail stylists at  Anthony Vincent Salon! Our full service salon is here to take care of all of your beauty needs–from the perfect cut to a beautiful manicure. We believe that when you look your absolute best, you feel your best too! To learn more about the services we offer or to schedule an appointment, give us a call at 609-448-2212, or visit us here. Don't forget to connect with us on Facebook and Twitter to stay up to date on the latest industry trends and styling tips.