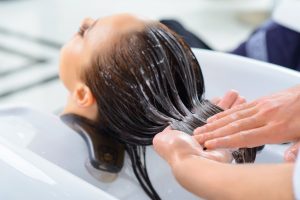 As temperatures drop, our beauty routine needs a bit of an overhaul to reflect the harsher conditions of the winter. If you would describe your hair as being dry, frizzy or unmanageable, chances are you could benefit from a deep conditioning hair treatment.
Overuse of heat and styling products, environmental toxins and chemicals from hair treatments can all damage and strip your hair of it's natural shine. But don't fret–deep conditioning treatments can save your locks! How so? We're glad you asked!
They'll leave your hair looking smooth and shiny:
When your outer layer of hair, known as the cuticle, is damaged, the scales don't lie flat and give the appearance of frizzy, dry hair. A deep conditioning treatment will condition the cuticle and help the scale-like cells to lie flat, giving the hair a smoother and shinier appearance.
They'll add moisture to your locks:
One of the main reasons that hair becomes unmanageable and dull looking is because it's been stripped of it's moisture. Using harsh heat styling like a hair dryer, curling iron or flat iron will strip the moisture from it, leaving it dull and dry looking. Deep conditioning treatments add moisture to your hair, restoring the fullness of each strand. Adding moisture will help plump up the hair, giving it a smoother, fuller and healthier appearance.
They'll protect your strands:
Deep conditioning treatments can be part of a regular hair healthy regimen. They strengthen, detangle and help prevent split ends. If deep conditioning treatments are done regularly enough, they can prevent hair from being damaged when heat styling takes place.
Do shiny and healthy locks give you hair envy? Well, you can have them too! If you're looking to repair and replenish your tresses to combat the harshness of the colder temperatures, come in to Anthony Vincent Salon for a deep conditioning treatment! Our stylists will give their expertise advice on what treatment is best for your individual needs. To schedule an appointment with our talented staff or to learn more about our services, visit our website or give us a call at 609-448-2212.