We've all been there–you just spent money and time at your favorite salon to leave with the perfect hair hue of your dreams, only to find that after a few short weeks your color starts to fade! How frustrating! But fear not–there are ways to prevent this! Prolong your color and keep your locks looking shiny and new with these tips: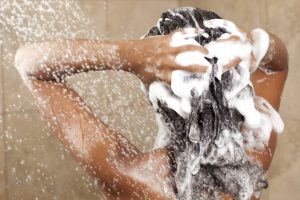 Avoid Hot Showers: Hot water doesn't only dry out your skin, it can shorten the life of your hair color too.  Extreme temperatures open up your cuticle, releasing your precious color and moisture. Shampoo and rinse with room temperature water, then apply conditioner and rinse it with the coolest water you can stand. This will seal in the cuticle, extending your color and giving your hair an enviable shine.
Keep Hot Tool Use To a Minimum: It's a good idea to avoid using hot tools the first week after coloring your hair to help prevent the color from fading. Blow dryers and straighteners speed up the process of color fading as they strip your locks of their natural moisture.  While these tools are sometimes necessary, keep them at a minimum and always use a thermal protectant spray to keep them healthy.
Wait to Wash Your Hair as Long as Possible: Dry shampoo will become your new best friend after leaving the salon with a fresh dye job! Avoid shampooing your newly colored hair at least 24-48 hours after, and incorporate a gentle sulfate-free shampoo into your daily beauty routine.  
Prep Your Hair Before Coloring: A few days before a color service, use a clarifying shampoo to remove product buildup and give you a blank canvas for your new color. You might also want to use a deep-conditioning mask once a week to put hydration back in the hair before you visit the salon to help keep color from fading over time!
Are you looking to switch up your hue for the colder months?Let Anthony Vincent Salon help! Our full service salon is here to take care of all of your fall beauty needs.  We believe that when you look your absolute best, you feel your best too! To learn more about the services we offer or to schedule an appointment with one of our skilled colorists, give us a call at 609-448-2212, or visit us here. Don't forget to connect with us on Facebook and Twitter to stay up to date on the latest industry trends and styling tips.