Finding the perfect hair salon can be a daunting task….until now! Our hair defines us in a lot of ways–it's a reflection of our personal style and makes us feel confident, so it's important for your hair to look just the way you like it at all times. That's where we come in!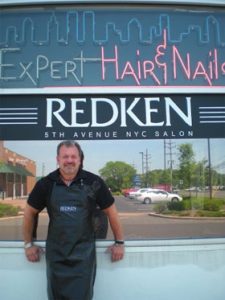 Who We Are:
Anthony Vincent Salon is full service hair, nail and makeup salon that has one mission in life: to make you look and feel your absolute best! We are a destination where passion, purpose and trust meld together. We understand that getting a great haircut shouldn't be just that,–it should also be an experience! Let us give that to you!
Our Experience:
Anthony Vincent Salon has a dedicated and experienced staff with over 1,000 years of combined talent! Now that's a lot of styling! Trends are always changing and new techniques are constantly emerging. From balayage to ombré to blowouts galore, we pride ourselves on staying up to date on the latest industry trends and styles. We provide our expertise to each and every one of our clients, ensuring they walk away happy (and come back for more)!
What We Do:
We believe that every one of our clients are gorgeous and it's just up to us to enhance their already existing beauty. Utilizing only the finest products available, like Redken, Schwarzkopf and Paul Mitchell, we provide a full range of services from cutting, styling, coloring, waxing, makeup and more. Let us be a part of your daily beauty routine. Let us be a part of your wedding or special event. For a full list of the services we offer, visit us here.
When you trust your hair in our hands, something magical happens!
We can't wait for you to say hello to beautiful!
Are you looking for a top notch full service salon in the East Windsor, NJ area? Anthony Vincent Salon is here for you! To learn more about  Anthony Vincent Salon or to schedule an appointment, give us a call at 609-448-2212, or visit us here. Don't forget to connect with us on Facebook and Twitter to stay up to date on the latest industry trends and styling tips.  You'll be glad that you did!